Minato Oasis, Wajima Marine Town
In 2008, an interactive facility for tourists opened at Minato Oasis, Wajima Marine Town. In May 2010, the passenger ship terminal, the entrance of the sea, was opened. While it accepts many passenger liners, various events have been held for the visitors. You can also spend a great time at the Wajima morning market, which has last over 1000 years, and Wajima Row House Workshops in the area.
Facilities
The Interactive Tourists Facility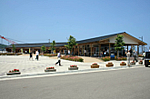 Tour guidebooks, various brochures and coupons are available. Please feel free to come to the tour information desk. We offer information of little-known good spots and other recommended attractions.
Passenger Ship Terminal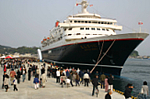 A terminal with the depth of 7.5m. I began its service in May 2010 and a cruiser ship, "Nippon Maru" stopped here. The town is lively with the tourists from the sea. Many passenger ships are scheduled to stop here in the future.
---
Events
Wajima Festival (June)
Abaline Festival (July)
Wajima Taisai (Wajima Kiriko Festival) (August)
Crab Festival (November)
Access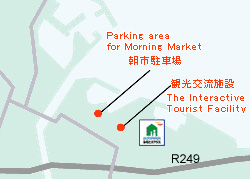 By public transportation
25 minutes from the Noto Airport by taxi
Two hours from Kanazawa by express bus.
By car
25 minutes from Noto expressway, Noto Airport I.C.
What is the "Minato Oasis" System?
The "Minato Oasis" System is a system that registers the area that continuously works on the local promotion by utilizing the "Port" facilities, such as the passenger terminal, green space and the seashore, as "Minato Oasis" and informs the charm of the port and surrounding areas across the nation to support building the port community and improve the convenience of the visitors.
Services offered by "Minato Oasis"
Information/ It sends out the information about the "Port", regional news and sightseeing information.
Communication/ It offers place for community events etc.
Rest Area/ It offers parking areas and restrooms.
Regional Characteristics/ It holds local events and sells regional specialty goods.
Sea Wave Information in Ports
(Real-time)

You have access to the real-time wave information at all ports in Japan. Broadcasted by The Nationwide Ocean Wave information network for Ports and Harbors (NOWPHAS)

You can check the information of waves in the Hokuriku region from your mobile phone.