Minato Oasis Nanao, "Noto Shokusai Ichiba"
At Minato Oasis Nanao "Noto Shokusai Ichiba (Market)", fresh seafood and Noto's specialty goods are sold. There are restaurants and event squares where various events are held. Many sightseeing spots, such as Wakura Hot Spring Spot and Tojima Aquarium, are in the surrounding area.
Facilities
Noto Shokusai Ichiba (Market)
"Dining, sightseeing and shopping" can be all done in this one spot. There is a fresh market to shop fresh seafood, the specialty goods and craft hall, the Noto Saisaiji Hall where you can experience the festival in Noto, and a Gourmet Hall, where you can enjoy the taste of Noto.
Nanao Marine Park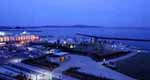 Located next to the Noto Shokusai Ichiba (Market), you can view the Port of Nanao and Noto Island from here. There are relaxation places for citizens, such as an event square, a waterfront square and boardwalk, where various events are held and many people visit.
Events
Seihaku Sai (Festival) (May) (In Nanao-city)
ort of Nanao Festival (July) (Nanao Marine Park)
Monterey Jazz Festival in Noto (July) (Monterey Square in Nanao Marine Park)
Access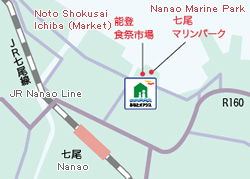 On Foot
10 Minutes from JR Nanao Station on foot
By Car
30 Minutes from Noto Expressway Uwadana Yadana I.C.
What is "Minato Oasis" System?
The "Minato Oasis" System is a system that registers the area that continuously works on the local promotion by utilizing the "Port" facilities, such as the passenger terminal, green space and the seashore, as "Minato Oasis" and introduce the charm of the port and surrounding areas across the nation to support building the port community and improve the convenience of the visitors.
Services offered by "Minato Oasis"
Information/ It sends out the information about the "Port", regional news and sightseeing information
Communication/ It offers place for community events etc.
Rest Area/ It offers parking areas and restrooms.
Regional Characteristics/ It holds local events and sells regional specialty goods.
Sea Wave Information in Ports
(Real-time)

You have access to the real-time wave information at all ports in Japan. Broadcasted by The Nationwide Ocean Wave information network for Ports and Harbors (NOWPHAS)

You can check the information of waves in the Hokuriku region from your mobile phone.