Port Services Boat
"A Port services boat" is …
A boat that directs construction or takes measurements of a breakwater, which prevents waves coming into the port, or of a wharf etc. for ships to get passengers and cargos on and off. It is also equipped to respond and assist when a disaster, such as an earthquake or oil spill, happens.
"Wakana" (Base: Port of Kanazawa)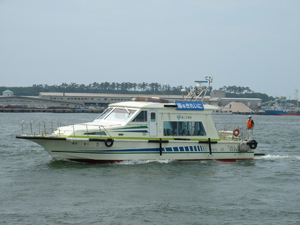 7m long, 4m wide and the gross tonnage is 19 tons
Maximum speed 30 knot (about 55km/h)
Engine • Three water jet engines (an engine which takes in water from the bottom of the boat and jets out backward).
GPS positioning device, radio navigation mobile station, underwater television set, echo sounder and marine satellite phone
"Notokaze" (Base: Port of Nanao)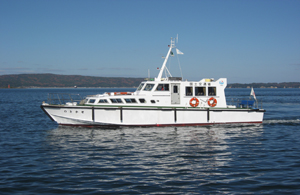 16m long, 4m wide and the gross tonnage is 47 tons.
Maximum speed 22 knots (about 40km/h)
GPS positioning device and marine satellite phone
Sea Wave Information in Ports
(Real-time)

You have access to the real-time wave information at all ports in Japan. Broadcasted by The Nationwide Ocean Wave information network for Ports and Harbors (NOWPHAS)

You can check the information of waves in the Hokuriku region from your mobile phone.