Ongoing Project
Port of Kanazawa Ohama International Logistic Terminal Development Project
The Port of Kanazawa had wharfs and terminals with the depth of up to 10m only that prevented recently developed large vessels entering the port. Therefore, local businesses had to operate inefficiently, transporting goods to the ports on the pacific coast, where large vessels could enter, via ground transportation. In 2006, the Ohama International Logistics Terminal (-13m) Development Project was launched. The terminal began the service in November 2008 at the water depth of 12 meters to realize the economical effects early.
The terminal development allows large vessels enter the port, and shipping cost is lowered by the improved logistic efficiency. We expect that the local industry to strengthen the international competitiveness and the community to be vitalized, as a result.
We will continue promoting the terminal development to improve the function of the Port of Kanazawa and support the growth of the region.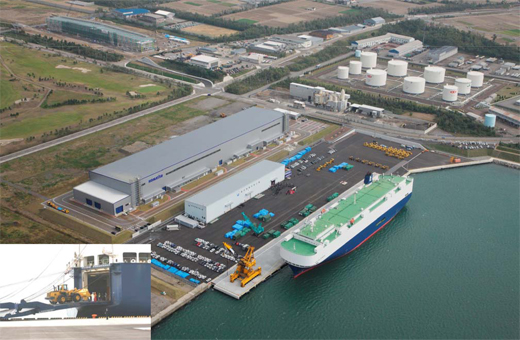 Ohama International Logistic Terminal, in service since November 2008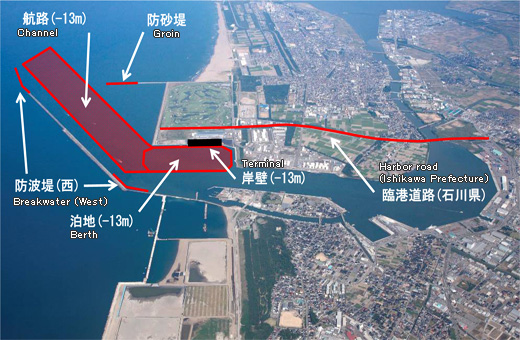 Overview of Ohama International Logistic Terminal Development Project
Project Effects
The terminal development allows large vessels of international standard enter the port. The cost is lowered by the improved logistic efficiency, and the international competitiveness of the Hokuriku region is strengthened.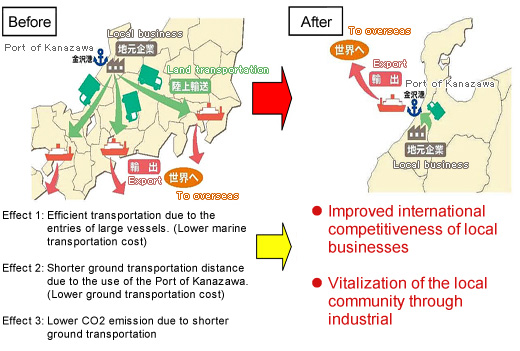 Sea Wave Information in Ports
(Real-time)

You have access to the real-time wave information at all ports in Japan. Broadcasted by The Nationwide Ocean Wave information network for Ports and Harbors (NOWPHAS)

You can check the information of waves in the Hokuriku region from your mobile phone.